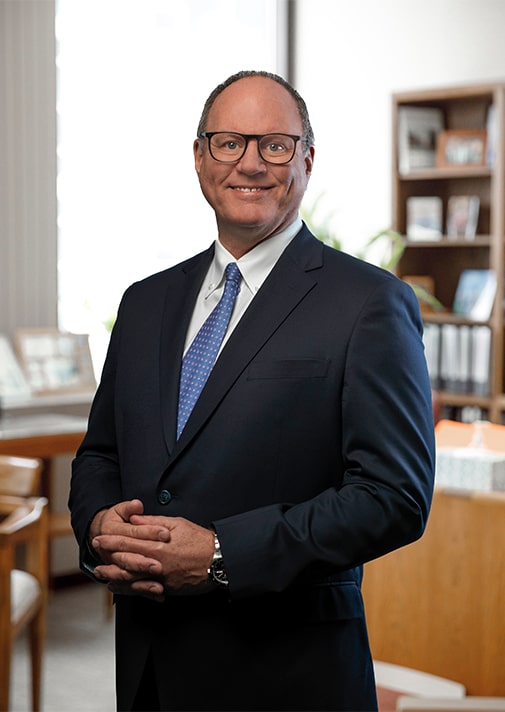 Christopher D. Morris
Member
Mr. Morris is a leading lawyer and the embodiment of a civil litigation attorney. Mr. Morris has been lead trial counsel for clients from commencement of action to jury verdict or final judicial determination in a wide range of legal disputes. In addition to the representation of clients in trials he has a wealth of experience successfully arguing on behalf of clients during appeals. After decades of courtroom work earning the respect of judges and lawyers, Mr. Morris advises clients, "the best way to settle any dispute is to be fully prepared for trial."
Utilizing his long and diverse litigation background, Mr. Morris also works as a professional mediator. Mr. Morris is approved to provide mediation of general civil disputes by both the federal and state courts.
Mr. Morris has received the Client Distinction Award from Lawyers.com based on excellent client review ratings. Since 2004 Mr. Morris has been peer review rated by fellow lawyers and judges as "AV Preeminent" through Martindale-Hubbell. "AV Preeminent" is the highest possible rating for an attorney based on peer assessments of legal ability and ethical standards; less than 5% of all attorneys in the United States enjoy this distinction.
Education
He received his Bachelor of Arts from Kalamazoo College in 1979 and Juris Doctorate from Thomas M. Cooley School of Law in 1983.
Publications
During his litigation career Mr. Morris has served as lead trial counsel and appellate counsel resulting in published decisions that have later been relied on as authoritative precedent over five thousand times in later legal decisions and law review articles. These decisions cover many diverse legal topics including insurance coverage, legal procedure, disability law, workers compensation and heart disease, statutory construction, property damage, attorney fees and taxation. Published opinions include:
Federal 6th Circuit Court of Appeals: Moon v Unum Provident Corp., 461 F.3d 639 (6th Cir. 2006); Moon v Unum Provident Corp., 405 F.3d 373 (6th Cir. 2005); Seiser v Unum Provident Corp., 135 Fed Appx. 794 (2005); Ulman v Commissioner of Social Sec., 693 F.3d 709 (2012).
Michigan Supreme Court: Farrington v Total Petroleum, Inc., 442 Mich 201; 501 N.W.2d 76 (1993); Woody v Cello-Foil Products, 450 Mich 588; 546 N.W.2d 226 (1996).
Michigan Court of Appeals: Russell v Welcor, Inc., 157 Mich App 351; 403 N.W.2d 133 (1987); McCaul v Modern Tile and Carpet, 248 Mich App 610; 640 N.W.2d 589 (2001); Rangel v Ralston Purina Co., 248 Mich App 1258; 638 N.W.2d 187 (2001); Reidenback v City of Kalamazoo, 327 Mich App 174; 933 N.W.2d 335 (2019); West Michigan Annual Conference of the United Methodist Church v City of Grand Rapids, 336 Mich App 132; 969 N.W.2d 813 (2021).
Indiana Court of Appeals: Kinsel v Schoen, 934 N.E.2d 133 (2010).
Memberships
Mr. Morris is a Special Assistant Attorney General for the State of Michigan and also serves on the Discipline Board of the Michigan Attorney Grievance Commission. He is a member of:
The American Bar Association
The Bar Associations of the States of Michigan and Indiana
The Kalamazoo County Bar Association
Kalamazoo County Trial Lawyers Association, the Association of Defense Trial Attorneys, the Michigan Supreme Court Advocates Guild
The Michigan Supreme Court Historical Society
Mr. Morris is president of the volunteer board of the Constance Brown Hearing Center and also a former member of the West Michigan Cancer Center Community Board.
Bar Admissions
Mr. Morris is admitted to practice in:
The United States Supreme Court
The United States Court of Appeals
The Federal District Courts for the State of Michigan and Indiana
All Michigan and Indiana state courts
The Potawatomie and Ottawa Band tribal courts