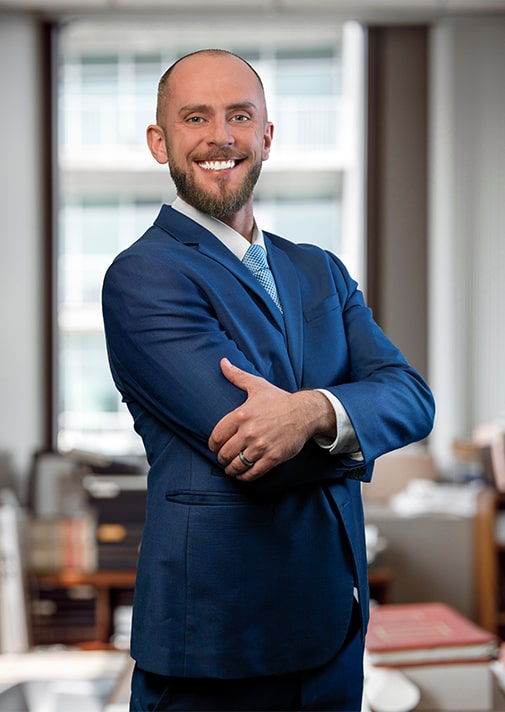 Stuart Chipman-Bergsma
Member
Stuart Chipman-Bergsma ("Chip") provides legal representation and counsel for business clients, construction and development project owners, financial institutions, and insurance companies across Michigan and in Northern Indiana with a heavy focus in Kalamazoo and Southwest Michigan. With a broad range of experience in litigation and transactional work in several industries, Chip works with closely held businesses as external general counsel to provide comprehensive planning and management of the client's legal needs.
Chip has counseled clients through business mergers and acquisitions, contract negotiations, employment issues, financial transactions, shareholder & member disputes, joint ventures, business formations, and dissolutions.
As all transactions are cut in the shadow of litigation, Chip brings his extensive civil litigation experience to the table in helping his clients build businesses and structure deals that last. He understands that litigation is rarely part of a successful business model, and he works to help his clients avoid the court room so they can dedicate their resources to the family, their business, and their community. When Chip's clients are forced into litigation, he is a fierce, effective, and efficient litigator that artfully works towards the best possible outcome for his clients.
Chip serves Southwest Michigan credit unions and other financial institutions by providing regulatory compliance counsel, collections representation, and real estate foreclosure services. He has helped clients achieve excellent delinquency ratios and improve overall performance for their members.
Chip's work with renewable energy project developers has established a practice area at Lennon Miller that will provide vital expertise and counsel to the community for decades as businesses work to adapt their work to the energy transition. He eagerly represents clients operating in the renewable energy development space.
Business Law
In business, Mr. Chipman-Bergsma advises clients in:
Business formation and organization
Project development
Dental practice transitions and operations
Commercial and residential lease negotiation and enforcement
Employment litigation
Employee benefits and executive compensation
Real property law
Real-estate litigation
Creditor's rights

Commercial litigation
Mr. Chipman-Bergsma acts as external general counsel for companies who require coordination and management of their external legal resources.
Litigation
In litigation, Mr. Chipman-Bergsma has represented clients through the trial court, Court of Appeals, and Supreme Court of Michigan, and in federal court. He has obtained favorable outcomes for his clients in cases involving:
Breach of contract,
Commercial disputes,
Fraud and embezzlement,
Michigan no-fault third party and first party disputes,
Consumer protection disputes,
Boating accidents,
Sports-related accidents,
Dog-bite,
Construction disputes,
Property damage claims,
Products liability,
Insurance subrogation,
Eminent domain disputes
He also focuses his practice in representing credit unions to protect their members' assets through civil actions, post-judgment collections, real-estate foreclosures, fraud investigation and recovery, representing creditors rights in bankruptcy proceedings, and regulatory compliance issues.
Education
Mr. Chipman-Bergsma earned a Bachelor of Arts Degree from Saginaw Valley State University and a Juris Doctor from the University of Michigan Law School. He is admitted to practice law in all State Courts in Michigan, Indiana, and the United States District Courts for the Western and Eastern Districts of Michigan. He is a member of the State Bar of Michigan and the Kalamazoo County Bar Association.
Personal Life
Born and raised in Michigan's Upper Peninsula, Chip enjoys Michigan's lakes, festivals, trees, golf courses, and sports teams. He spends his free time with his wife and two children.